Oh boy, do I have the ULTIMATE ONE SKILLET dinner for you! This Meat Lover's Tortellini Skillet is just 6 ingredients, prepared in ONE skillet, and ready in less than 20 minutes!!
I basically took my One Skillet Baked Ziti and pumped it full of three delicious meats – andouille sausage, crispy bacon and sliced pepperoni! I also subbed out the penne for a fresh cheese filled tortellini, which was basically the best idea ever.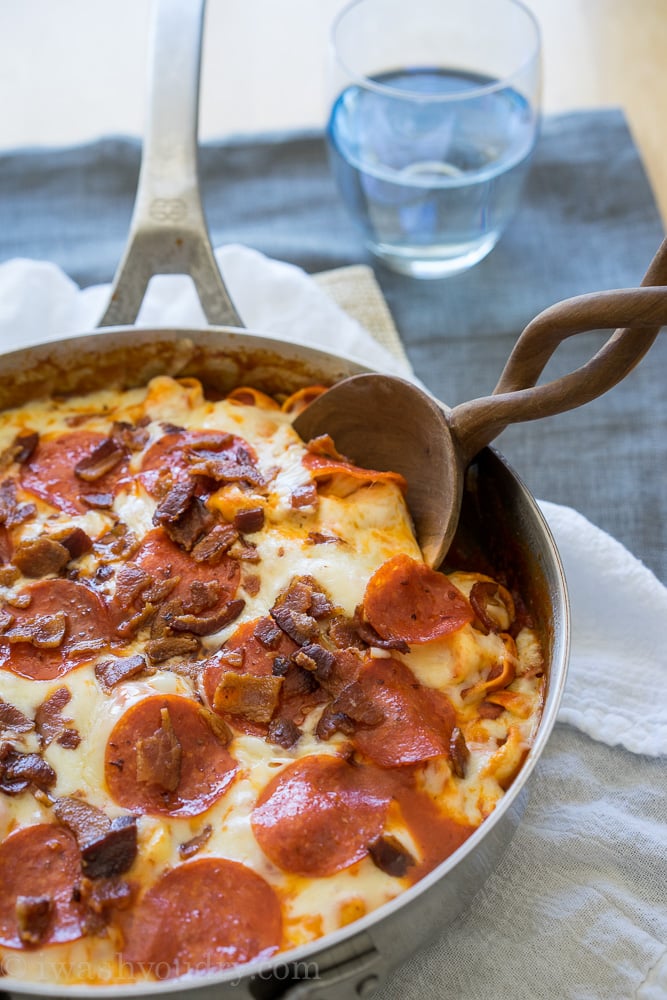 The best thing about this awesomely quick dinner is that it's all prepared in one pan!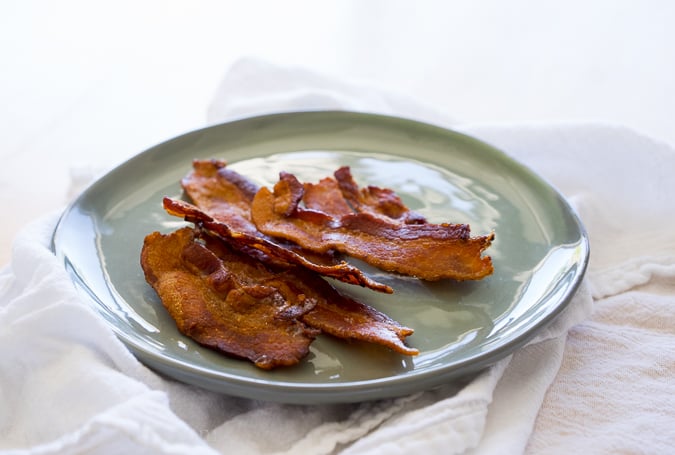 I started by crisping up 3 thick cut slices of bacon in my skillet. Once they were crisp I removed them from the skillet to some paper towels, and drained the bacon grease, but left about 2 tbsp of grease in the skillet.
Dice up your andouille sausage (you could also use an Italian sausage), and saute it in the bacon grease until it gets nice and browned.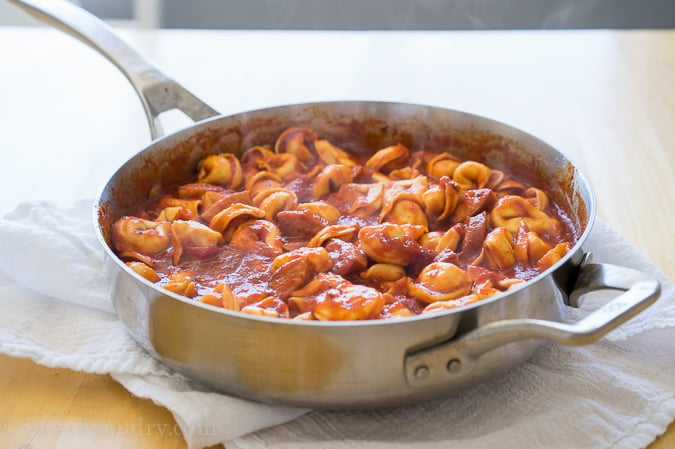 After that I just added a jar of marinara sauce as well as 13 ounces of the fresh cheese filled tortellini. I also snuck in about 1/3 cup of water, which will help to cook those tortellini to the perfect tenderness. Bring the skillet to a slight boil, reduce heat and cover for about 7 to 10 minutes, or until the tortellini is cooked.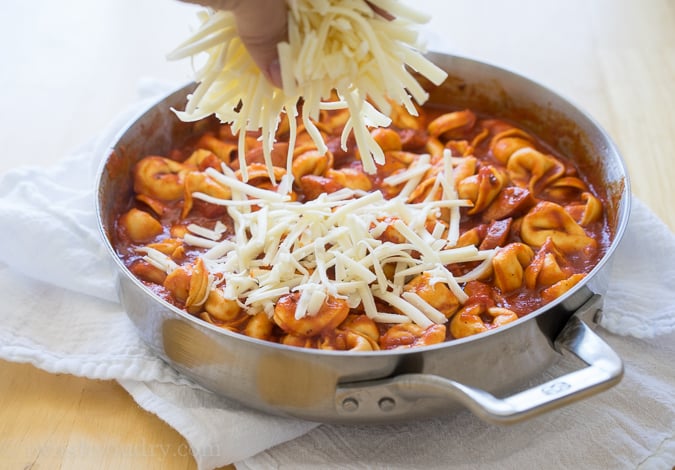 It's almost like we're making a pizza now!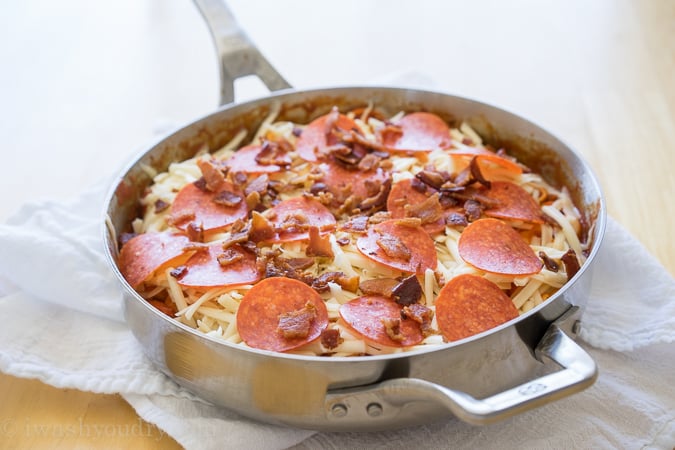 All you need to do now is top it with some sliced pepperoni and that crispy bacon that we cooked up earlier. Cover it back up and let the cheese melt (about 3 to 5 minutes).
I even threw mine under my oven's broiler for a minute to get the whole thing nice and bubbly.
Just make sure you use an oven safe skillet if you're going to do that!

Once it's done you're ready to enjoy a dead sexy dinner. Go ahead and serve it with a sprinkle of parmesan cheese and a slice of toasty garlic bread!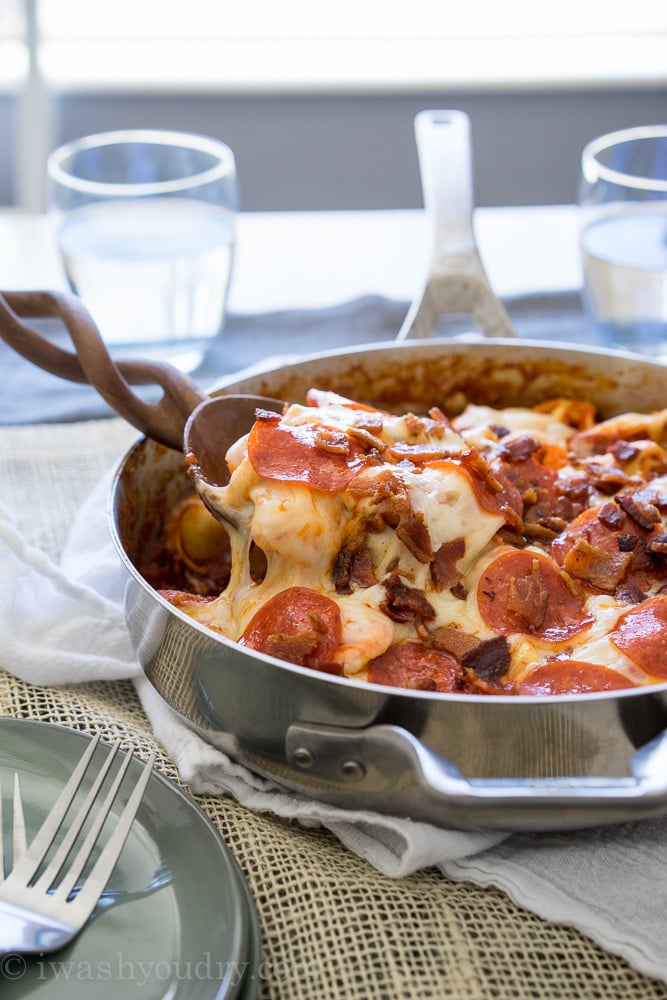 INGREDIENTS
3 strips thick cut bacon
8oz. andouille sausage, diced OR 12oz. ground Italian sausage
24oz. jarred marinara sauce
1/3 cup water
13oz. fresh cheese filled tortellini
8oz. shredded mozzarella cheese
12 slices, pizza pepperoni
INSTRUCTIONS
Cook bacon in an oven safe skillet until browned and crispy. Remove bacon from skillet and drain on a paper towel lined plate. Leave about 2 tablespoons of bacon grease in the skillet and discard the rest.
Saute the andouille sausage in the bacon grease over medium heat until browned (or if using ground sausage, brown in skillet, breaking up with wooden spoon until crumbled and cooked through). Carefully add the marinara sauce, water and tortellini to the skillet. Stir and bring to a low boil, reduce heat and cover for 7 to 10 minutes, or until the pasta is tender.
Stir and then sprinkle the cheese over the top of the pasta in an even layer. Top with the sliced pepperoni and crumbled bacon. Cover and cook an additional 3 to 5 minutes, or until cheese is melted.
If desired, place skillet under your oven's broiler for about 2 minutes to melt cheese even more. Enjoy!